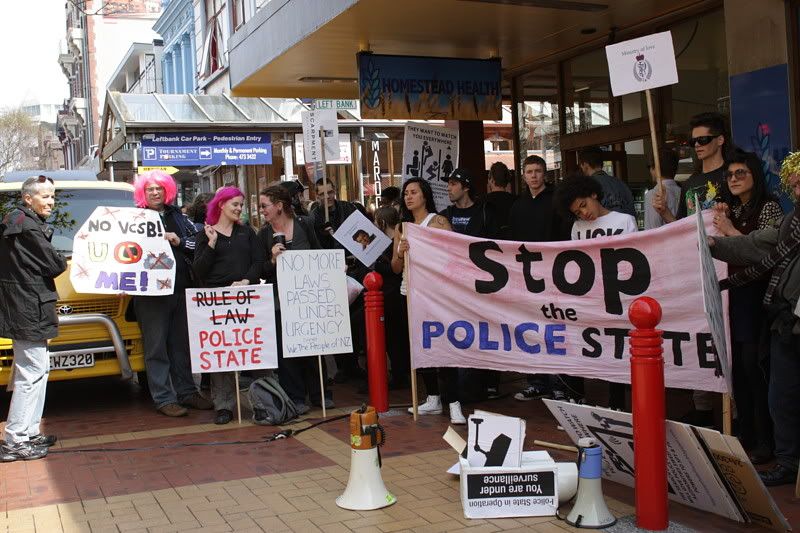 So I marched in my first political protest ever today. The protest concerned the Video Camera Surveillance (Temporary Measures) Bill, an extremely dodgy piece of legislation which as I understand it, retroactively allows video evidence obtained without a warrant to be used in the prosecution case against some people accused of terrorist activity. This is despite the fact that the Supreme Court may choose to allow evidence of this sort under certain circumstances (I am not a lawyer, judge, law lecturer or any type of expert in this field. Do your own research please! I may not have understood this all exactly right.) and has chosen not to in most of of the cases in question.
So, we have
- The police obtaining evidence under dodgy circumstances
- The Court has the option under existing law to allow this evidence anyway, and has chosen not to
- The Government is attempting to enact a law which essentially reverses the Court's decision.
Not only is the Government trying to interfere with the judicial process, it attempted to go about it in a way which short circuits the parliamentary debate process and eliminates the right for citizens (such as myself) and organisations (such as the Human Rights Commission) to make a submission on the issue. They didn't quite get away with ramming the bill through
under Urgency
, although they tried, so it is going to
Select Committee
and submissions were sought - there was a 12 hour window in which they could be made. Twelve hours. I think it was that that I found most offensive.
No Right Turn has a rundown of some of the more prominent and informed submissions on the bill
.
tatjna
has also been discussing it extensively over several posts.
More pictures, and a bit more personal commentary on the protest tomorrow. I'm still processing, both the pictures and my reactions.