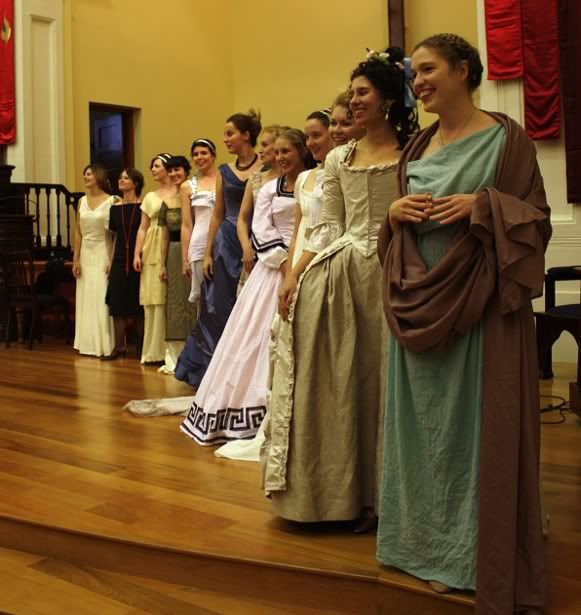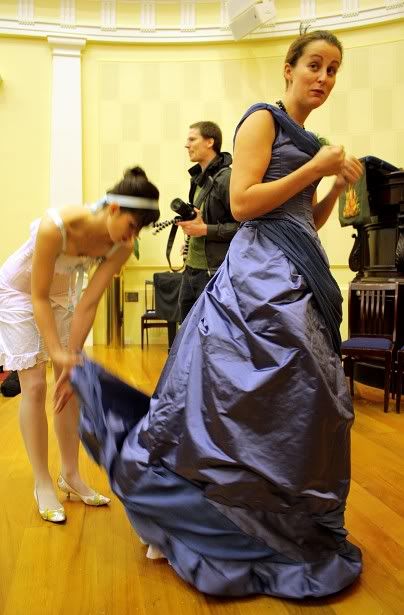 Sometimes when you leave the house early enough good things happen.
Last year at the
Fabricabrac stash redistribution exercise fabric sale
I bought the purple and gold sari that became the lining of my recent coat. Today at the Fabricabrac
stash redistribution exercise
fabric sale I bought
another
purple and gold sari from the same lady that sold me the last one. It seems that I am destined to own at least one sari at all times - at this rate I'd better learn how to actually wear one.
I also bought a few metres of black satin with lace appliqué, and when I told the woman who sold it to me of a vague plan to turn it into a Victorian-esque skirt she gave a flyer for a talk on the classical influences, via the finds at Herculaneum and Pompeii, on Western fashion, from 1770 to 1920 or so.
It was given by fashion historian
Leimomi Oakes
- that's her in stola and palla at the far right of the first two pictures. No Powerpoint at this presentation though - it was all illustrated with accurate reproduction garments, and we were invited to inspect them up close afterwards. The models were most obliging when it came to having their vintage undergarments examined.