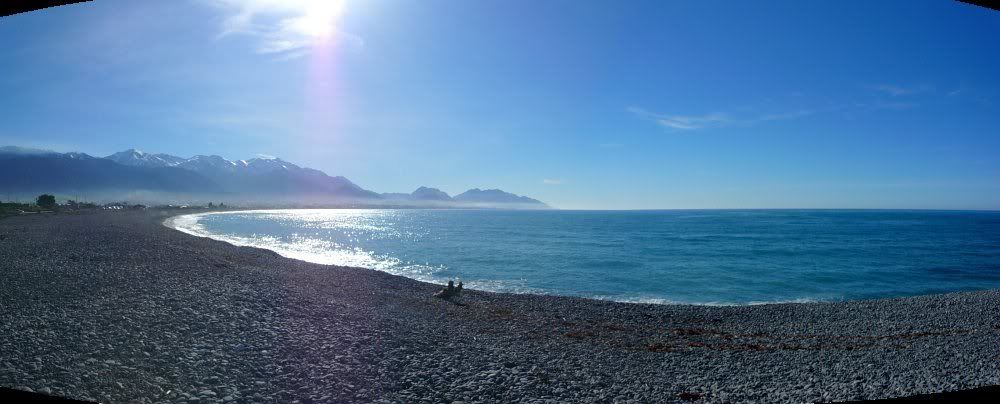 Skipping
Hanmer
, going straight to
Kaikoura
.
It's not that Hanmer's not worth a picture or two, it's just that I was driving, for the first time in a couple of years, and was exhausted by the time we got there. The hot springs were most welcome, as were the lamb shanks at the pub. The backpackers, on the other hand was not. It could have been great, a very pretty little place, but the proprietress was officious and the beds were
squeaky
. I didn't get a whole lot of sleep. Claire got some, but had nightmares about the ferry sinking.
Kaikoura is where things start getting really complicated. The seaward Kaikoura ranges in the distance mark the northern end of the
Alpine fault
which occurs on an east-over-west subduction zone. Off this coast is the
Hikurangi trench
, a continuation of the southern end of the Kermadec trench which is on a west-over-east subduction zone. I remember my stage I geology lecturer kind of knitting his fingers together to demonstrate this. I also remember him apologising to us for having to teach something as complicated as the geological history of New Zealand to stage I students.
This whole geological mess continues north under Wellington and out Hawkes bay.
The Hikorangi trench brings cold Antarctic water and assorted sea mammals close to the coast here, which in turn attracts tourists in large numbers. They used to attract whalers, but they're not so welcome any more.